Hi everyone,
I want to show you the current development status of the mission building tool (MMT) that is part of the Meta-SEOW suite. This tool scans the SEOW campaign database and builds ground combat missions for hosting/resolution in Iron Front. MMT is a pretty neat tool that relies upon local maps being built with SEOW DMT.
Right now MMT has the following features:
*) automatic conversion between IL2 objects and Iron Front counterparts, including mobile and stationary forms
*) automatic support for SEOW ground unit formations, orientations and fortifications
*) automatic inclusion of SEOW unit movement orders as Iron Front waypoint sets
*) automatic incorporation of SEOW supply and morale/health parameters
*) automatic generation of Iron Front weather conditions using SEOW campaign weather data, hour by hour
*) detailed individual naming of SEOW units inside Iron Front
*) all units playable by humans
*) optional generation of animals and refugee camps
*) automatic incorporation of Arma2 High Command module with synchronization to all units
*) automatic inclusion of surrender, improved explosions and advanced AI modules
*) automatic scalability of mission.sqm file to large numbers of squads and units
In the following images you will see screenshots directly from Iron Front (using PWS Mod) from an example SEOW campaign in the Kiev_AP map in IL2 (288 x 201 km). The Iron Front map used by the mission is built from the large Kiev_AP map, focusing on a small area centred on the small village of Vakhanovka - this area defines the "Vakhanovka 10km" map in Iron Front. The MMT mission is then opened in the Iron Front mission editor to view the internal mission setup.
MMT Mission: Vakhanovka Map Overview
... 48 combat groups, 3 refugee groups, 15 animals, 92 fortifications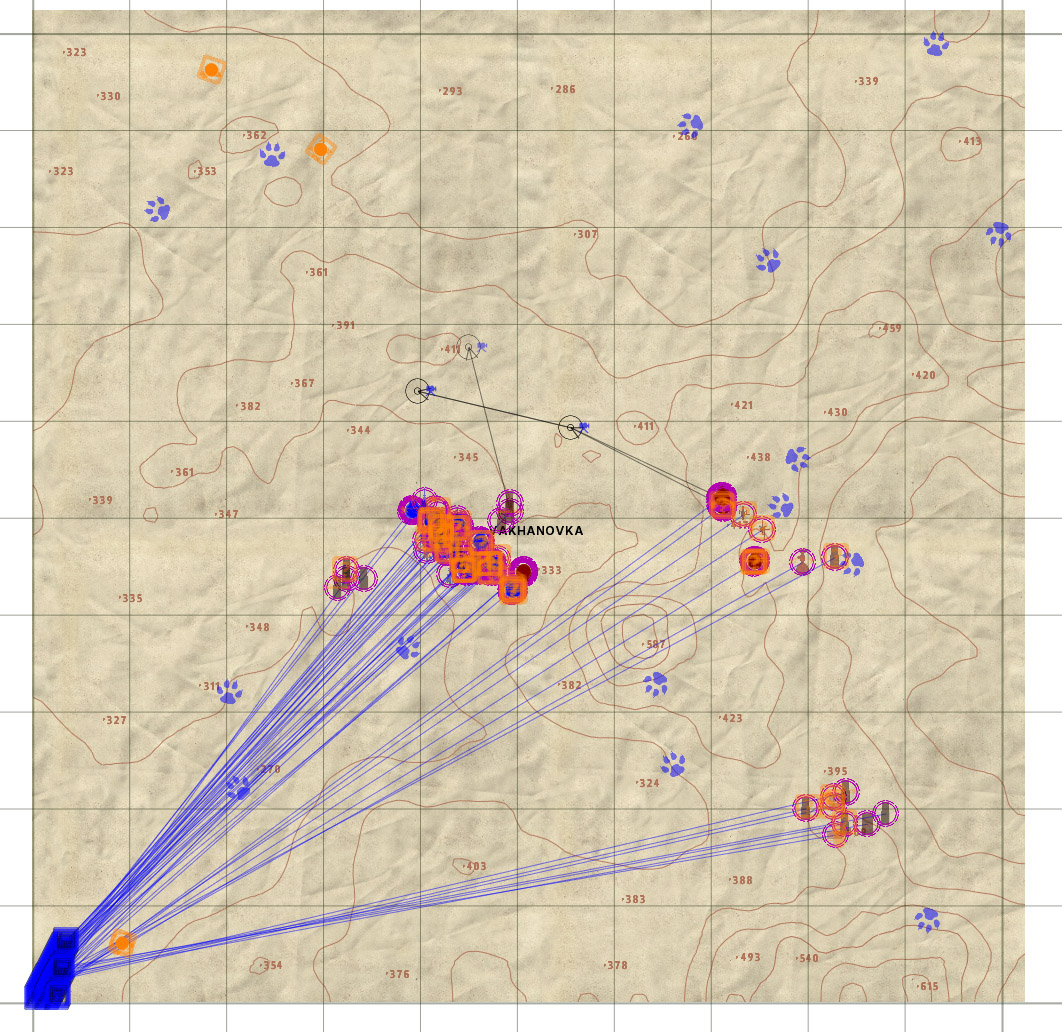 MMT Mission: Vakhanovka Village Detail
... text highlight for PzV of 24 PzK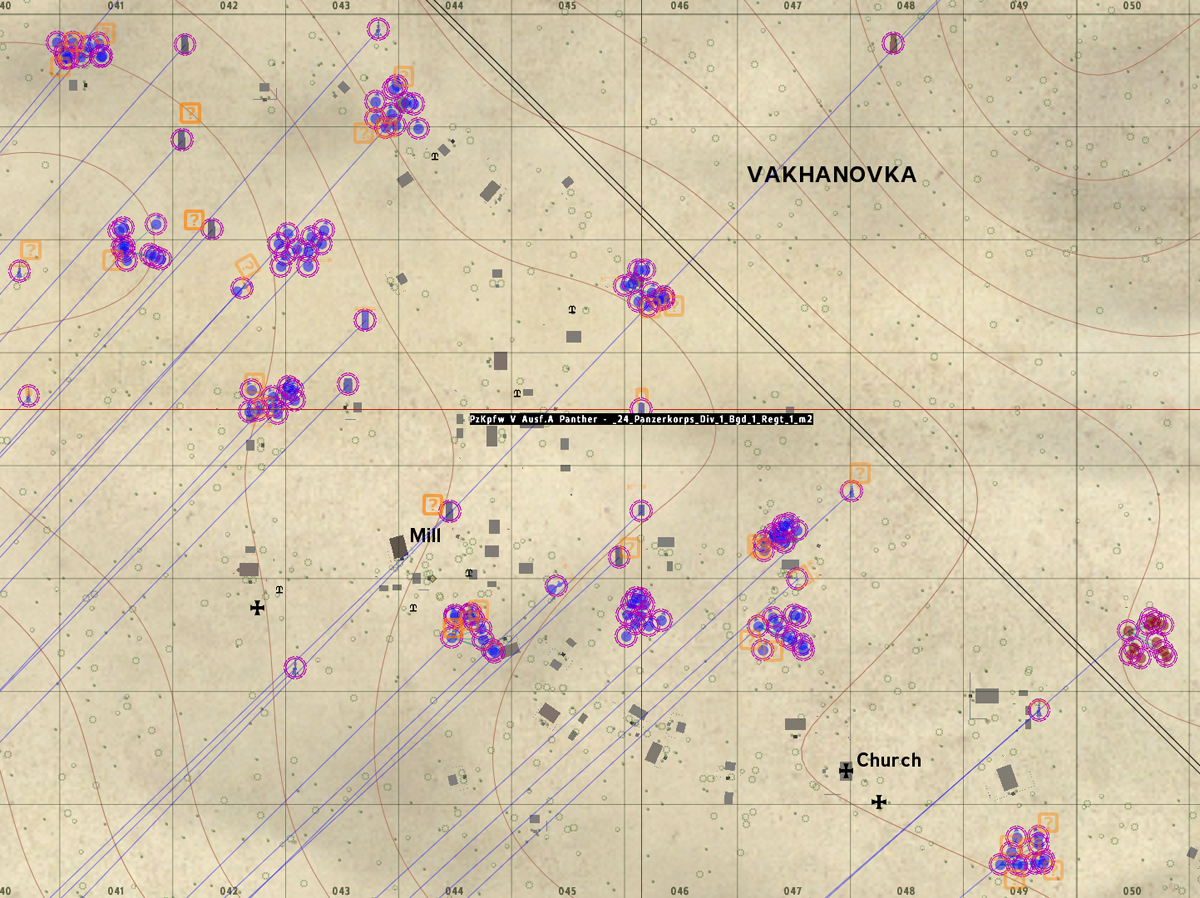 MMT Mission: Vakhanovka Modules
... detailed High Command synchronization for all combat groups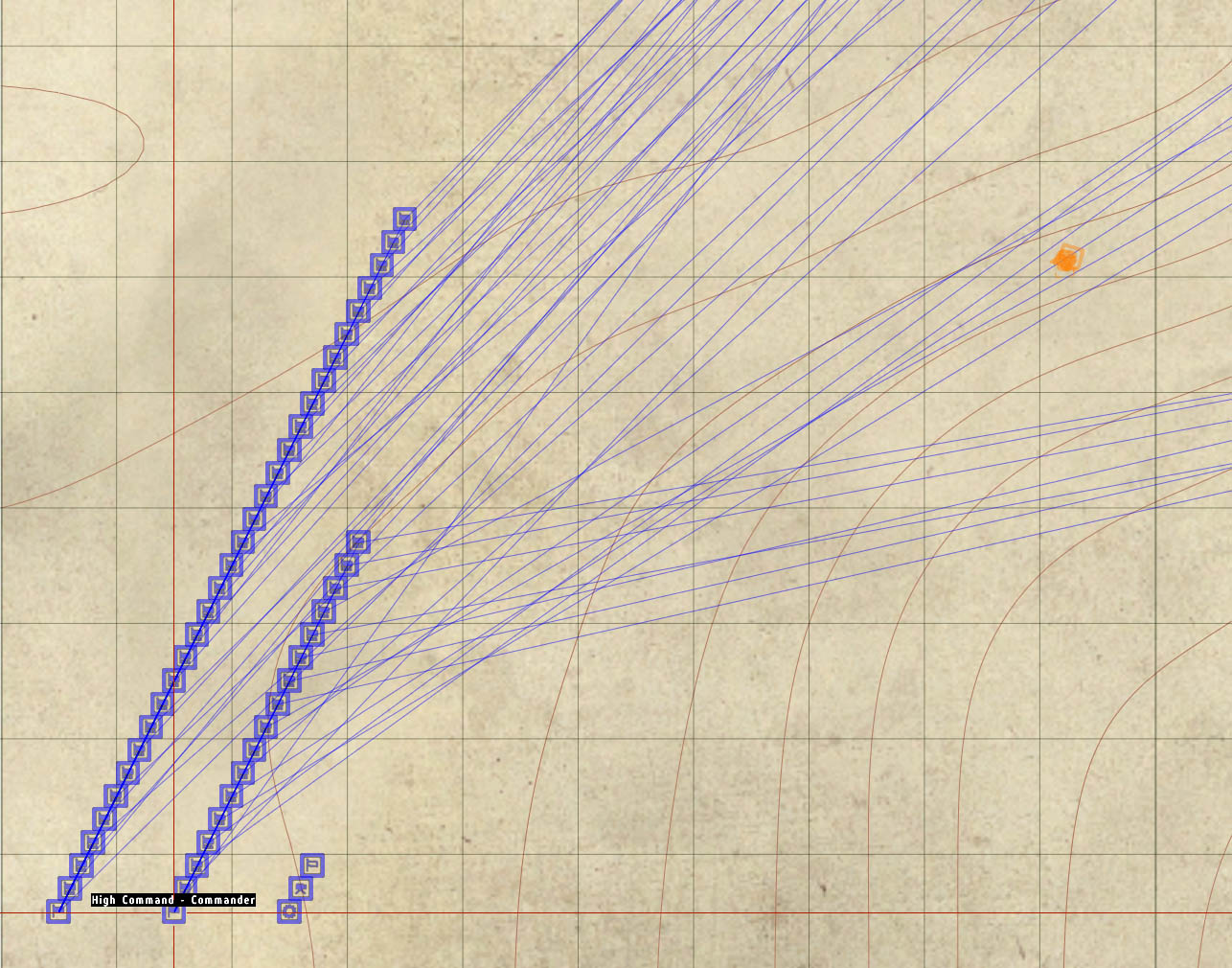 MMT Mission: Vakhanovka Action
... Wehrmacht squad takes cover under fire
MMT is still under development - new features will include:
*) automatic support for SEOW artillery barrages
*) automatic placement of wreckage from previous missions
*) supply/ammo drops and resources
*) partisan forces
*) integration of first aid/casualty module
*) eventlog script